The best Tools for Structured Visual Thinking
Vithanco helps you think in a structured manner with visual diagrams. Use it to organise your thoughts and present them more effectively. Join our newsletter for updates.

Vithanco does what it says. It helps you capture, analyze, and structure your thoughts so you can get a bullet-proof plan, a well-defined system, or get to the actual root of problems. Its user interface may still be a bit rough around the edges, but as a working tool, it's okay this to not be the top priority. Also, Klaus is always only an email away and is both open to suggestions and fast to help.
Improve Your Thinking
Don't rely solely on your memory to keep track of everything. Instead, use diagrams to help you sort out your thoughts. Vithanco offers a simple, visual approach to capturing and developing ideas. The result is a self-explanatory diagram using visual grammar to structure how things are connected.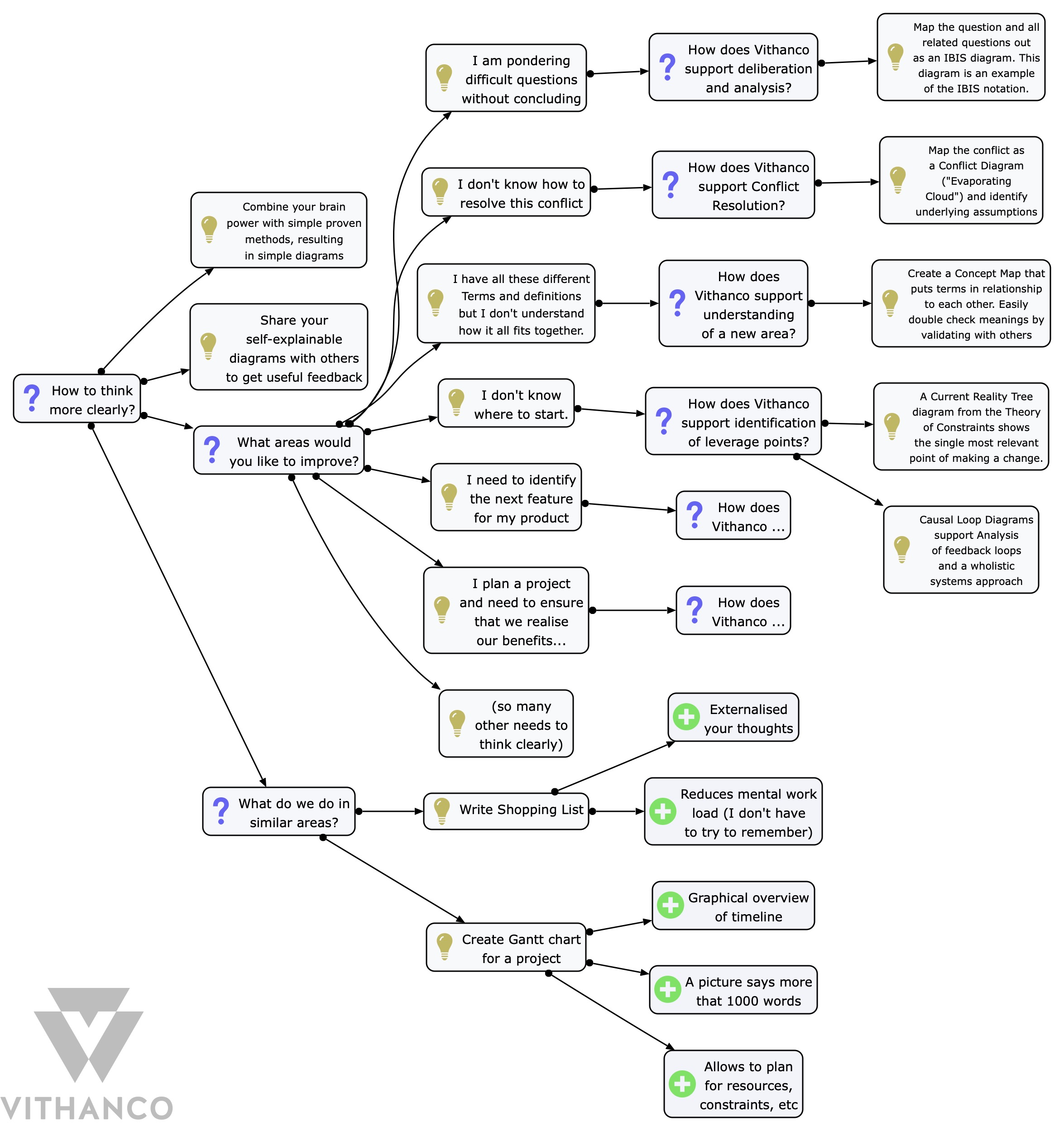 How Vithanco Helps
Vithanco makes it easy to create diagrams that help you think and concisely present your ideas. Using visual aids enables you to keep the big picture in view, focus on the task at hand, and conform to structured methods. In addition, you can use the resulting visuals to communicate with stakeholders more effectively.
Relevant Features
Vithanco has many valuable features, including auto-layout, easy drag and drop, keyboard controls, and export to PDF, JPG, and PNG. You can also design your node styles and visual languages and zoom in and out.
Diagram Types
Vithanco offers out-of-the-box support for several diagram types, including Theory of Constraints Thinking Processes, Concept Maps, IBIS Diagrams, Mind Maps, Benefit Breakdown Structures, and Decision Trees. You can use these tools to plan projects, capture discussions, and clarify terminology.
Clarify Terminology
Use Concept Maps to clarify terminology and ensure everyone is on the same page. Create a sentence for each arrow to describe a concept accurately. This approach yields better results than any text-based dictionary.
Capture Discussions
Use IBIS to capture discussions or explore all aspects of a question. This approach allows you to start with a question and capture the answers, ideas, and pros and cons for each. Then, you can elaborate on any node with another question for deeper analysis.

Plan Projects
Use Benefit Breakdown Structures to plan projects and achieve investment objectives. Tracing enablers (such as software) to benefits, you can determine whether a feature is necessary to create any benefit. Start with the end in mind and plan backwards from objectives and benefits.

Vithanco helps you to think more clearly, and visually. So give it a try today!

Vithanco is a suite of tools for structured visual thinking. It helps you to create and share diagrams that communicate your ideas clearly and concisely. Individuals, teams, and organisations use Vithanco in a wide variety of industries, including business, education, and government.
Features
Vithanco offers a variety of features that make it the best tool for structured visual thinking, including:
A powerful editor that allows you to create diagrams quickly and easily
A wide range of diagramming notations, including concept maps, IBIS diagrams, and ToC thinking processes
Create diagrams without worrying about the layout. Vithanco will automatically arrange your content in a visually appealing and easy-to-understand way.
Store partial graphs as Templates for faster creation of variants
Reports to provide insights about relationships, even for big diagrams
The ability to export diagrams in a variety of formats, including PDF, PNG, JPG, and SVG
Versions
Vithanco is available in four versions:
Vithanco General App is the most flexible version of Vithanco. It supports all notations and all methods.
Vithanco IBIS is a single-purchase version that supports only IBIS notation.
Vithanco TOC is a single-purchase version that supports all Theory of Constraints thinking processes.
Vithanco Concept Maps is a single-purchase version that supports only Concept Maps notation.
Benefits
There are many benefits to using Vithanco, including:
Increased clarity and conciseness of communication
Improved understanding of complex ideas
Enhanced collaboration and teamwork
Increased creativity and innovation
Improved decision-making
Reduced risk of errors
Version Comparison
The following table compares the different versions of Vithanco:
| Feature | Vithanco (General App) | Vithanco IBIS | Vithanco TOC | Vithanco Concept Maps | |
| --- | --- | --- | --- | --- | --- |
| Notation support | All | IBIS only | Theory of Constraints only | Concept Maps only | |
| Import | All | Compendium | Flying Logic | CMap (via .cxl format) | |
| Price | Freemium (up to 20 nodes per diagram) | One-time purchase | One-time purchase | One-time purchase | |
| Own Notations | Yes | No | No | No | |
| Download | | | | | |
As you can see, the Vithanco General App is the most flexible version of Vithanco. It supports all notations and methods and has no limitations on the number of nodes. On the other hand, the Vithanco IBIS, Vithanco TOC, and Vithanco Concept Maps are single-purchase versions that support a specific notation or method. They have no limitations on the number of nodes but do not support all notations or methods.
The best version of Vithanco for you will depend on your specific needs. If you need a tool that supports all notations and all methods, then the Vithanco General App is the best choice. On the other hand, if you only need a tool that helps a specific notation or method, then one of the single-purchase versions may be a better option.
Get Started
To get started with Vithanco, download the app from the App Store. Once you have installed the app, you can create a new diagram or open an existing one. Vithanco is easy to use, even for beginners. You can use the built-in editor to create your diagrams quickly and easily.
Conclusion
Vithanco is the best tool for structured visual thinking. It is easy to use, powerful, and versatile. If you are looking for a tool that can help you think more clearly and communicate more effectively, then Vithanco is the right choice.